33 Ways to Monetize a Website (or a Blog)
In fact, turning a part-time, hobby blog into an income generating asset is fairly common with a bit of luck and some hard work.
Keep in mind that the strategies listed below range from easy and passive, to ones that require a TON of on-going work (so make sure you pick something that suits your site and lifestyle preferences).
There are 33 total tips in this guide, but let's start with the ten most popular (and predictable) site monetization tips.
10 Most Common Ways to Make Money with Your Website
Making money from your website isn't easy. But these ten tips are probably your best bet.
1. Affiliate Marketing (.. and affiliate links)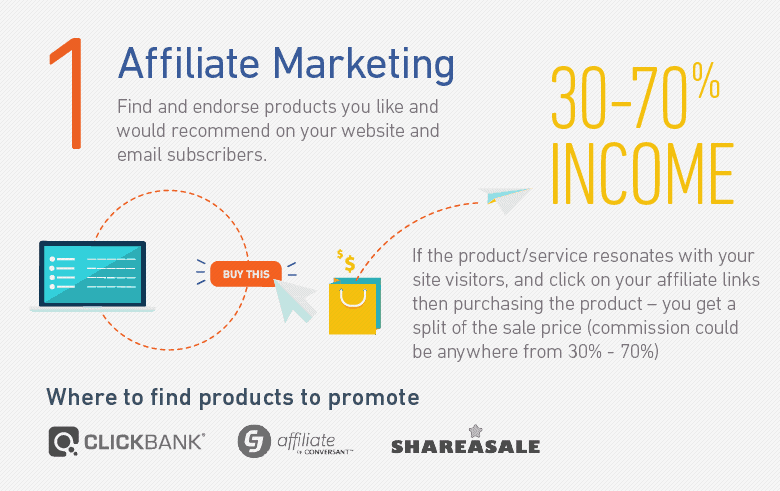 Affiliate marketing is one of the most popular (not to mention quickest) ways to make money from your website or blog.
2. Pay Per Click Advertising (Google Adsense)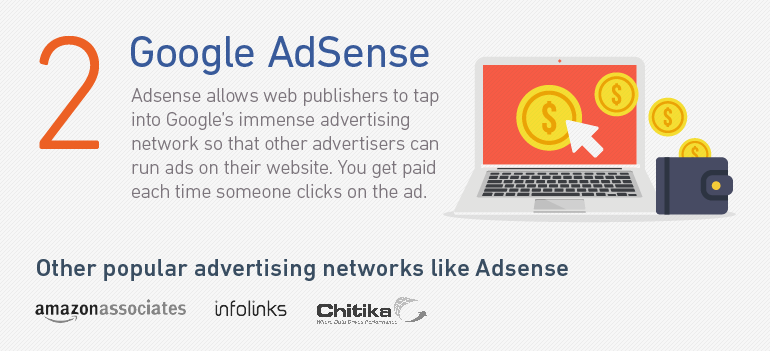 AdWords are the advertisements that show up on the top of Google search result pages.
AdSense is the reverse, allowing publishers (which includes bloggers and other website owners like yourself) to tap into Google's immense advertising network so that other advertisers can run ads on their website.
The best part about this system is how simple everything is.
Once you sign up, Google will place a simple code on your website that will identify the content of your site and start displaying relevant advertisements. For example, if your site is about pets (dogs & cats), Google AdSense will start showing your visitors ads for cat food, dog training and more.
You get paid each time someone clicks on the ad. (Yes, it's really that easy!)
Your cut might be anywhere from $0.50 to $5 per click. However, when your site has enough traffic, you can make hundreds (if not thousands of dollars) each month.
3. Sell Ad Space
The good thing about this approach is that if your site gets a ton of traffic from different sources, your simple banner ad pricing can go up to as high as $5000 per month! However, the obvious downside is that if your site doesn't get a lot of traffic, you can't expect to earn as much either.
4. Sell Your Own Digital Product (Ebook for Example)
That's because there's no middle-man or person in between you and the buyer that's taking a 'cut' from the money earned.
This approach seems fairly straightforward because you can simply sell these products directly through your website and get paid immediately. Unfortunately, it's not that simple in reality.
Creating good products that are well made and polished require a ton of time and additional resources (like design, content, etc.). So there's a lot of 'hidden costs' in both time spent or contractors to collaborate with. Selling your own products on your site also bring up problematic issues like payment gateways (how are you going to collect payment?), shipping (how are you going to mail or distribute the products?) and taxes (oh man, don't get me started).
And if that doesn't sound like enough work already, you'll also need a well designed, persuasive landing page to make sure your product has a strong conversion rate.
5. Accept Donations from visitors
Accepting one-off donations isn't a fast road to wealth, however, it can help you cover expenses in the short-term if people like what you have to say and want to support your journey.
6. Accept sponsored posts & articles (…but use nofollow tag)
You can also review the products from a company in an 'advertorial' that's part content, part advertisement. For example, if your website is all about the latest iOS games for iPhones and iPads, the creator of one of those ads would LOVE to have you review and feature their app to your fans.
When done right, this can create a win/win scenario. However done poorly, with irrelevant or inauthentic site content, and it can erode all of the reader's goodwill you've worked so hard to create in the first place.
7. Generate 'leads' for other companies
For example:
Let's say you have a website about teaching math skills. Your reader's information (like their email address or phone number) would be of great value to different online schools who're looking to sell their courses to eager, proactive students.
Basically, you're connecting the dots; playing the matchmaker by introducing two parties who can benefit one another. While it's similar to how affiliate marketing works, in this case it doesn't actually matter if your reader ends up purchasing their product or not. They're just looking for an introduction at this point.
8. Build an 'Email List'
They're referring to your email list, which comprises your most loyal readers. The objective is to convert as many strangers who visit your site for the first time into passionate followers who want to stay up-to-date on your latest work or content.
Admittedly this is a long term strategy (and you definitely won't get rich overnight). But it's one of the best, long-term methods to profitably growing your blog into a full-fledged, money making enterprise.
Never lose sight of the importance in creating relationships with your followers, however. Offering great information or free help is a perfect way to start. Spamming people with unsolicited offers is one of the fastest ways to abuse reader's trust and sabotage your long-term goals.
9. Set up an e-commerce site (hard work is required)
Be forewarned, though:
10. Flip Your Websites (Create -> Sell -> Reinvest)
To be honest, I typically don't suggest people plan on flipping their website or blog. (I'm a bigger fan of creating something for the long term.)
We've counted down some of the most popular ways to earn money from your website.
Another 23 ways to monetize your website